Our IT Support services are designed for organisations who either don't have dedicated in-house IT support resources, or simply wish to complement their existing team.
We provide a flexible service to suit your needs. In some cases we support our client's entire environment, in other cases we only support certain components where additional support is required.
We will keep your systems secure, and ensure your network and users are secure from cyber threats.
We will also help you comply with regulatory compliance standards such as FCA, GDPR, PCI and Cyber Essentials. This includes assessing your working practices and making recommendations that will make security part of the fabric.
We work with the following technologies: Cisco support, Microsoft Support, Sonicwall Support, Fortinet Support and more.
Streym IT Support - The Benefits
Proactive ICT Support
Using our advanced network monitoring system, we can prevent issues before they affect you. We employ a proactive rather than reactive approach to IT.
Highly Trained Staff
Desktops, Servers, Advanced Networking, Security & Applications. We have specialist, highly trained IT staff in each one of these areas and more. 
Competitively Priced
In most cases we have saved our clients' costs and delivered a higher level of service compared to their previous IT company.
Quarterly Reviews
We take time out to review the service, provide you with technology updates, and discuss the how we're doing so that you're always up to date and in control of the service you receive. 
Onsite Engineer
Once a month, we'll send an on-site engineer to spend some time with you to make sure everything is running as it should be and fix any issues before they become big problems. 
Market Updates
We stay abreast of all the latest developments in the tech world and we will inform you of the any improvements that can be made to increase efficiency or cut costs.
Quick Response Support
We aim to resolve any IT issues as quickly as possible so your productivity is not disrupted.
Preventing Downtime
We are constantly monitoring and maintaining key components of your IT environment. The aim is to solve problems before they become disruptive.
Technology Advice
We will give you the right technology advice so you can overcome business challenges, increase efficiency and grow without worrying if your IT can cope.
IT Support Scenarios
Above all, we recognise that supporting people is as important as supporting technology. We understand the importance of quality people and delivering a personal service.
All calls are answered by qualified Service Desk engineers. We do not employ "call-loggers" whose only job is to take a message.

We resolve 75% of problems in 30 minutes or less.

Our online helpdesk tool offers clients proactive updates and real-time tracking of live IT support and services issues.

Engineers can be scheduled at the clients' convenience, not the other way round.

We help to identify user training requirements for our clients, increasing productivity and helping to minimise on-going support costs.

We offer comprehensive user-friendly reports for clients who want to analyse their ICT and IT support solutions and our performance.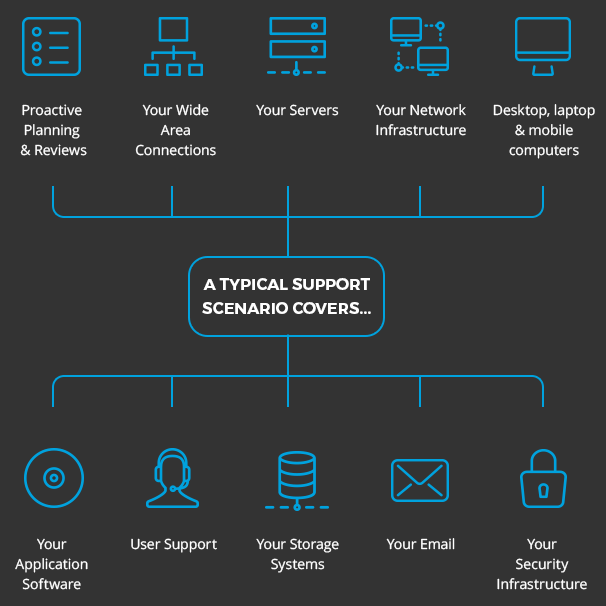 Get Your Free IT Support Review
We are passionate about enabling our clients to focus on their strengths; confident in the knowledge that their IT systems will reliably support them and their colleagues in their business pursuits.
If you are serious about getting value from your current IT systems, or you're looking for ways to keep your business ahead of the competition, get in touch to discuss how we may be able to help. We offer a free review of your current environment to can tell you where you're strong and where you're not so strong.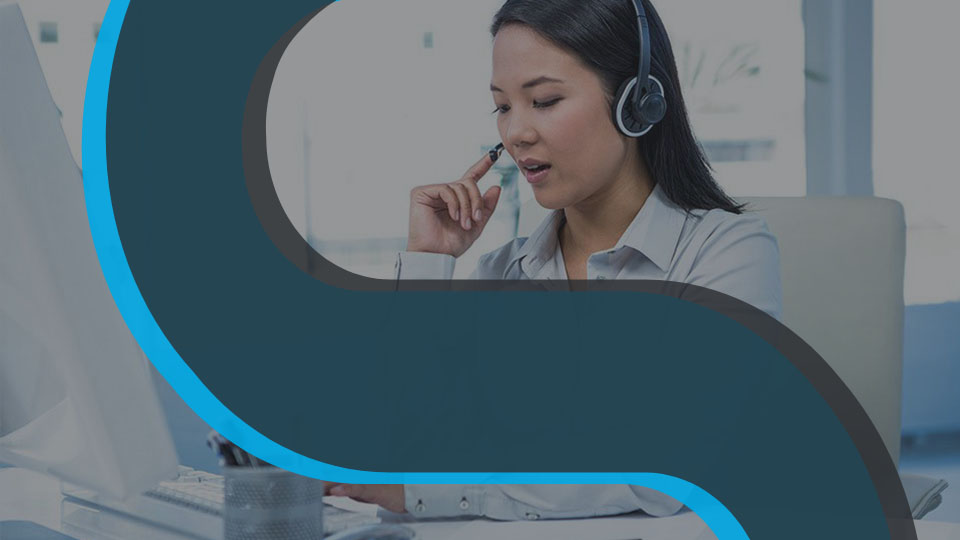 Contact us today for a consultation
We pride ourselves on delivering a flexible engagement style in order to meet your requirements. Contact us for a consultation.