Managed IT Security Services
Streym Managed IT Security Services protect your network with fully managed, network security, monitoring and support. Our services work as a complete solution or as a compliment to your existing security infrastructure. We help businesses of all sizes safeguard their network and information assets with a unified, integrated approach that reduces network complexity, gives you visibility and control of your network, and provides for easy and secure access to an increasingly mobile workforce.
With the rapid growth of social networks, the threat landscape has evolved and is now more complex than ever, it is vital that all businesses control the usage of applications, both business and social. Streym provides a comprehensive multi-layer security approach that works together to minimize down-time from individual threats, reduces risks with blended threats, and coordinates security alerting, logging, and reporting. Our managed firewall solution encompasses network design, customer/product consultation, configuration, installation and on-going support.
Managed IT Security
Managed Firewall: Detect and block suspicious network traffic, we can also control application traffic.
Intrusion Detection and Prevention: Proactive protection against known and emerging threats.
Gateway Anti-Virus: Comprehensive real-time network protection against malicious software.
Web Filtering: Control employee Internet access with White list/Black list and content filtering.
Site-to-Site VPN: Securely share files, applications and resources among multiple Internet connected locations.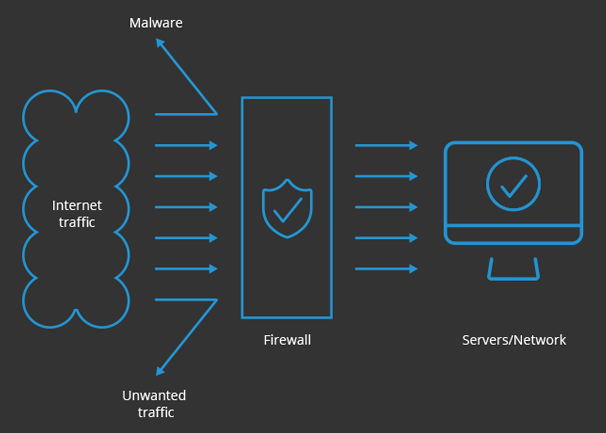 Benefits Of Managed IT Security
Streym Managed Service means no contractors or employees to hire.
Reduces network complexity and integration costs by eliminating multiple point solutions.Lowers total cost of ownership with predictable subscription rates.Continuously protects your business continuity, company assets and brand reputation.Helps maintain compliance with government regulations with up-to-date reports.VPN data networking – add any of our VPN data networking services to our managed firewall solution for a truly end-to-end managed VPN service – add homeworkers and suppliers quickly and easily – even allocate bandwidth to users or applications such as VoIP.
Continually updated signature lists and databases to provide the most aggressive threat protection.
Comprehensive reporting aids in developing best practices and security policies.
Lower costs – our managed solutions are very affordable, there is a fit for Organisations of all sizes. In addition, the business risks of losing staff are mitigated as is the requirement for expensive training.
Scalability & Flexibility – our managed security solutions have been deployed in small medium and large enterprises successfully. We can rapidly add and remove sites as well as reconfigure policies.
Security Experts in Checkpoint, Juniper, SonicWALL, Fortinet, Cisco, Vasco, HP, Barracuda and more.
Contact us to see how we can help. We are experts in networking & security and are happy to advise a solution that best fits your needs – whether you are technically astute or not!
STREYM IT
3 Ways Your IT Security Can Be Compromised
1 Computer
It only takes one computer on your network to be a little out of date to allow bad software to get in.
1 Team Member
It only takes one member of staff to click on a bad link in a malicious email.
1 USB
It only takes one USB stick with Malware to be placed into one of your computers.
Contact us today for a consultation
We pride ourselves on delivering a flexible engagement style in order to meet your requirements. Contact us for a consultation.